Bulletin: Data Flow from Facilities to EpiCenter
Introduction
EpiCenter uses healthcare data as the input for Syndromic Surveillance, Visit Monitoring, Treatment Monitoring, and custom reports.. This bulletin provides specifics around how data flows from facilities to EpiCenter.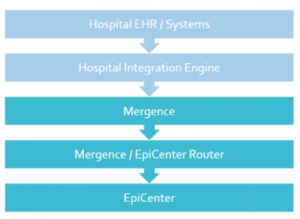 Figure 1 – Data Flow from Hospital to EpiCenter
Clarification on Data Flow
Hospital Systems
Facilities send electronic healthcare data to EpiCenter according to Health Monitoring's Data Transmission Guidelines. The primary data format supported is the Health Level Seven (HL7) standard, with limited support available for CSV, TXT, CDA, and XML formats. The HL7 standard defines the language, structure, and data types for packaging and sending electronic health information and is platform-independent. Health Monitoring captures a limited patient-specific dataset for use in EpiCenter and supports transmission of facility data that accords with The Public Health Information Network (PHIN) Messaging Guide for Syndromic Surveillance.
Because HL7 is already used in virtually all healthcare facilities, there is minimal effort required from facility personnel to set up a connection with Health Monitoring Systems via VPN. The VPN provides a dedicated, secure network tunnel for a facility, enabling a one-to-one, encrypted connection to Health Monitoring servers.
Mergence and Health Central Databases
After being sent from a facility, encrypted HL7 messages are stored in Health Monitoring's Mergence database. Mergence is a high-performance data processing system that is resilient to failure, supporting hundreds of simultaneous data connections. From Mergence, EpiCenter's sender configuration assigns each HL7 message to a "router worker" based on the sending facility so that messages from a given facility are processed in chronological order. The number of router workers is elastic and can be ramped up or down depending on incoming message volume. Once a message is assigned to a router worker, it is decrypted and sent to a second database, Health Central.
When a message arrives in the Health Central database its data is extracted and transformed into various relational tables which makes querying the data more efficient. The Health Central database is the basis for the EpiCenter application, its surveillance tasks, and all other analyses.
The Vault
While most data collected for use in EpiCenter is considered a limited dataset by HIPAA, there are some components such as clinician notes that may contain more sensitive information. These fields are encrypted and stored in the "Vault", a separate component from Health Central. For more details on the Vault, please see the "Reviewing Vault Access by Users" bulletin.
https://www.health-monitoring.com/wp-content/uploads/2018/07/HMSLogo_340x156.png
0
0
admin
https://www.health-monitoring.com/wp-content/uploads/2018/07/HMSLogo_340x156.png
admin
2021-10-19 15:00:26
2021-10-18 14:29:48
Bulletin: Data Flow from Facilities to EpiCenter